Larkin Conference Rooms and Equipment Rental
The Conference Center at the Larkin at Exchange Building (the "LCo Conference Center") provides a professional atmosphere for your business needs. The Larkin at Exchange Conference Center, located on the 8th floor, Suite 804, is comprised of three separate meeting rooms, each designed with a working environment that will make a positive impression on your clients and business associates.
Our staff will also remain on site during your event to assist you with additional needs as they occur so you may focus on what is important – your meeting.
The Barton Room
A 53' x 24' room with a flexible furniture system comprised of 30 – 24' x 60' tables. The room will comfortably accommodate 60 seating places with a working table surface for each or 75 auditorium style. The room is equipped with state-of-the-art HDMI/VGA connectivity for presentations on two 80" monitors, podium and microphone and wall mounted speakers, which will ensure presentations are seamless and impressive.
Rental Rates
Daily Rentals: 8:00 a.m. – 6:00 p.m., $400
Half Day Rentals: $250 (Maximum 4 hours)
Hourly Rental Rate – $115
Cancellations
$140.00 fee for cancellation of reservation
User will be charged 50% of agreed upon rate if cancellation occurs one (1) business day prior to reservation with a minimum cancellation fee of $140.00.
User will be billed within seven (7) days of use of Conference Center
Floor Plans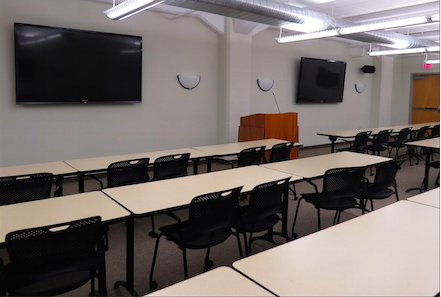 The Heath Room
A smaller size rom that can comfortable host 8 – 12 people for training or for use as a conference room is also available. Furnished with up to six tables, an optional instructor podium and a manual projection, this room is ideal for smaller meetings
Rental Rates
Daily Rentals: 8:00 a.m. – 6:00 p.m., $290
Hourly Rental Rate: $70
Floor Plans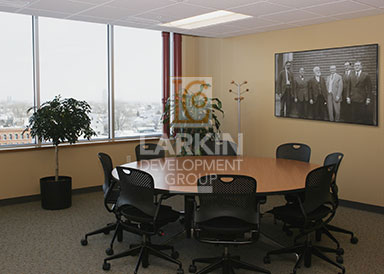 The Martin Room
A traditional "board room" style meeting space with furnishings including a 54" x 20' board table, comfortable seating for 24, a projection screen and white board.
Rental Rates
Daily Rentals: 8:00 a.m. – 6:00 p.m., $375
Half Day Rentals: $225
Hourly Rental Rate: $95
Floor Plans